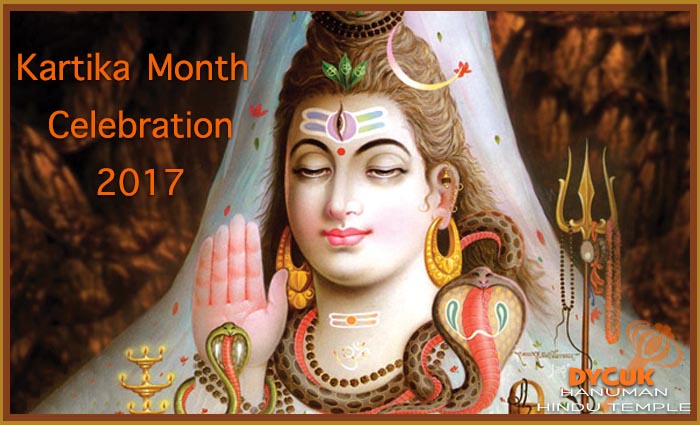 Dear All,
Jai Guru Datta & Jai Sri Hanuman
Kartika Month Importance
The month of Kartika starts after Diwali. It is very auspicious in Hindu religion.
Devotees are requested to have early morning shower before sunrise.
Energy of Ganga, Yamuna and Sarasvati is present in water to bestow health and spiritual energy.
Lighting of candles, Shiva Abhisheka, Oil abhisheka and Fire worship is recommended during the month.
Lighting of candles (deepak) means requesting Guru "LEAD ME FROM IGNORANCE TO KNOWLEDGE"
Shiva Abhisheka on Monday means "Remove our affliction and grant us serenity"
Taila (Oil) Abhisheka means "remove affliction and suffering"
Shanti Yagna means "bestow peace on my family"
Program
Saturday 28/10/2017 – 6:00pm. Taila Abhisheka on Hanuman, light a candle
Monday 30/10/2017, 06/11/2017,13/11/2017 – 07:30pm Rudrabhisheka by priest
Saturday 04/11/2017 – 5:30pm Satyanarayana Vratam. Group Puja
Sunday 12/11/2017 – 11:00am Ganapati Homa
Saturday 18/11/2017 – 6:00pm Hanuman Puja
Devotees may register for all puja by email or attend in person.
A donation of £5:00 per person is requested for puja
A donation of £11:00 per family** is requested for Satyanarayana vratam puja
A donation of £11:00 per family** is requested for Ganapati Homa puja.
**Please note family includes parents plus children under 16 years of age.
For further information, devotees are requested to contact temple at mail@dycuk.org
Devotees are requested to participate in all the events and donate to support the temple
Venue: Hanuman Hindu Temple, Brentford TW8 8NQ
All are welcome
Board of Trustees