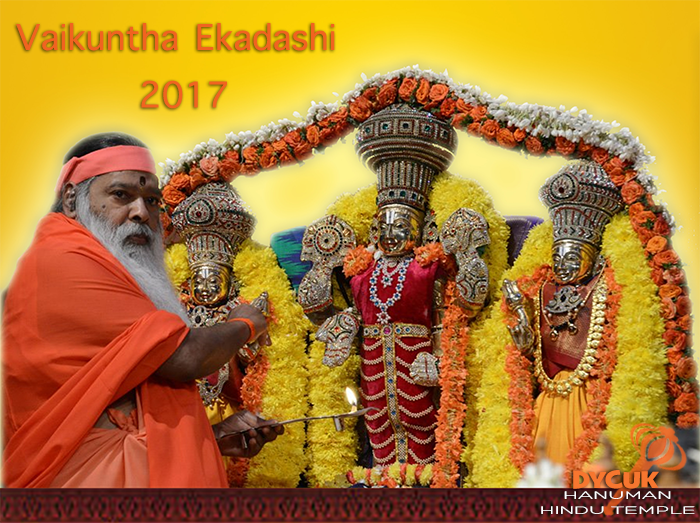 Dear All,
Jai Guru Datta & Jai Sri Hanuman
We cordially invite you to join us for the celebration of Vaikuntha Ekadashi
Friday Evening: 29/12/2017 – 7:00pm to 8:30pm
(Registration: 7:00pm – Puja starts 7:30pm)
Registration required to participate
Sri Maha Vishnu Puja
Vishnu Sahasra Nama Parayana (1000 names of Vishnu)
Mangala Arati
Your prayers become more powerful by consuming only fruits the whole day
* Please note – family includes parents plus children under 16 years of age.
Vaikuntha = Home of Lord Vishnu
Ekadashi = 11 day of Lunar Hindu month
Lord Vishnu showers blessings from North door of inner sanctorium.
It is considered most auspicious to offer prayers when lord appears from North direction.
Devotees are encouraged to participate and donate towards the puja.
Devotees may register by email or attend in person.
For further information, devotees are requested to contact the Temple via mail@dycuk.org
Venue: Hanuman Hindu Temple, Brentford TW8 8NQ
All are welcome
Board of Trustees