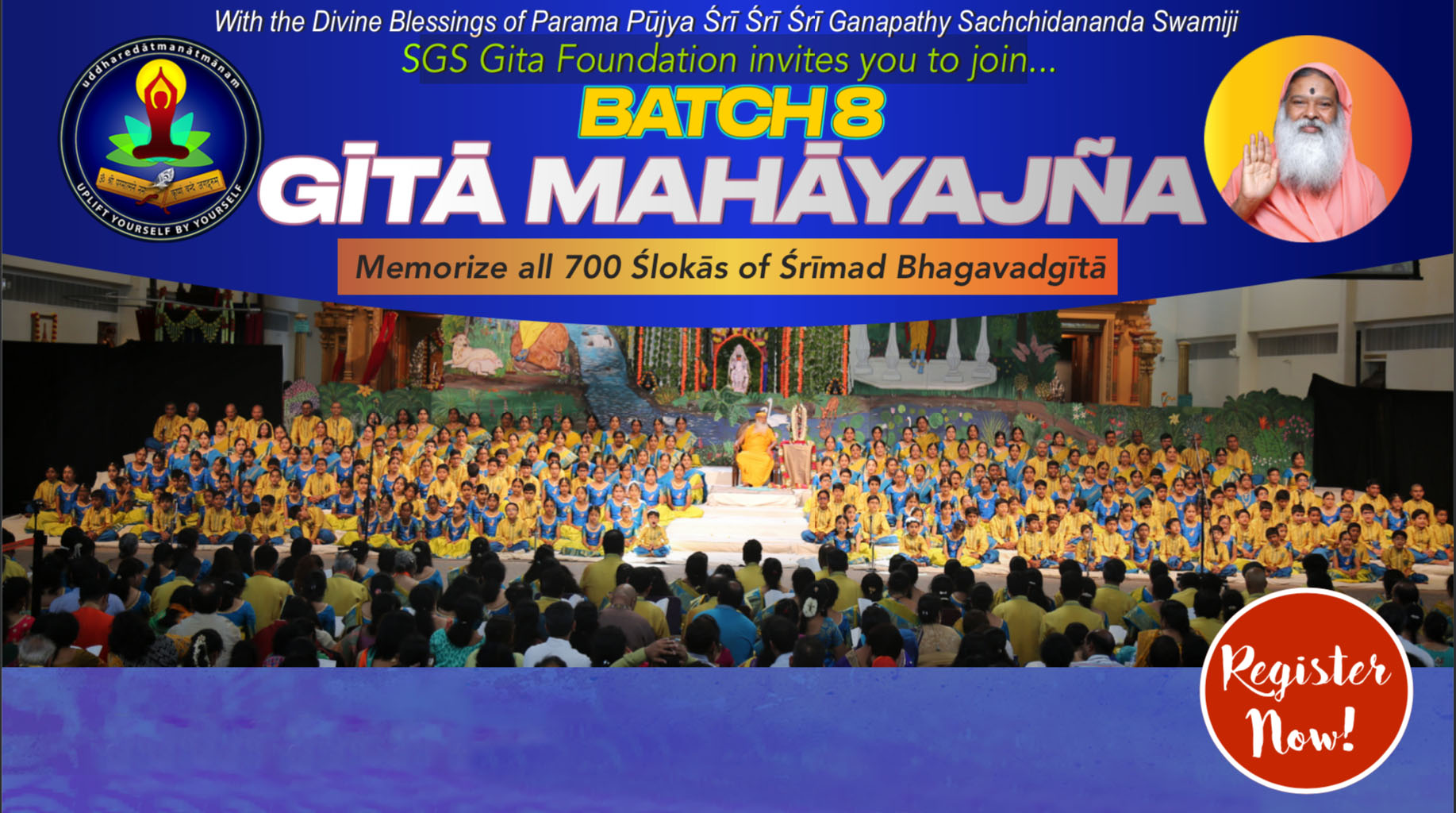 Bhagavadgītā Mahāyajña Batch#8 (2022-23)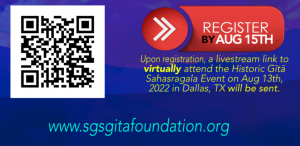 Are you interested in learning the entire Gītā (700 Ślokās) in 10 months, the essence of all the Upaniṣads and the life-transforming message of Lord Śrī Kṛṣṇa! The Gītā Mahāyajña program has trained 3000+ memorizers and 2000+ fluent readers worldwide over 7 batches.
Register now for Batch#8 to learn the Gītā with authoritative memorization and authentic pronunciation with emphasis on meanings! Upon registering, you will receive a livestream link to participate virtually in the Historic Gītā Sahasragala Event on Aug 13th 2022 in Dallas, TX. Witness for yourself, as 1500+ memorizers and 700+ trained fluent readers recite the entire Gītā, in this historic event!
👉  Please register before Aug 15th 2022.
👉  Upon registration, details of the orientation sessions and class schedule will be sent in August, by the center teacher.
Gītā Mahāyajña : Be Part of the Historic Movement:
The Bhagavadgītā Mahāyajña program was envisioned in 2015 by Parama Pūjya Śrī Ganapathy Sachchidananda Swamiji (Avadhoota Datta Peetham, Mysuru, India).
3000+ memorizers (children and adults) have aspired and achieved this extraordinary task in 7 batches of 10 months each. The Gītā Mahāyajña movement now has a presence across the globe in over 14 countries and nearly 30 teaching centers in North America!
Why Study BhagavadGītā?
● A complete life transforming manual.
● Bestows great material and spiritual success.
● Imparts leadership, management and team building skills.
● Frees from negativities of depression, conflicts, fear, anger, hatred etc.
● Helps to lead a balanced life.
Praṇāms
Mahāyajña Team
http://www.sgsgitafoundation.org